Rock Climb Mexico
Rock Climbing Lessons and Guiding available November through April only.
El Potrero Chico rock climbing
Surrounding the city of Monterey, Mexico lie some of North America's most impressive and accessible limestone cliffs. An International airport in Monterey, and a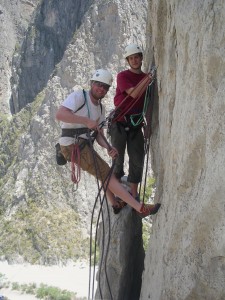 short drive from the US border, make these areas very accessible to rock climbers. The now internationally known and acclaimed Potrero Chico is located just forty
minutes from the airport. La Huasteca Canyon is located fifteen minutes from the city of Monterey. El Salto "the up and coming" climbing hot spot is located in a
high mountain setting forty minutes east of Monterey. This area of Mexico is stunning. Large Ponderosa pines, deep canyons, rivers, spanish moss, many trails, and dirt roads make Northeastern Mexico a delightful place to hike, bike, climb, or just take in the views.
Private villas and cabins are available for lodging as well as camping. Our professional rock climbing guides have climbed extensively in this area. Let Mountain Skills guide you into Mexico's vast resources. Whether you want a beginner climbing trip, the Potrero Chico's hundreds of established climbs, or to explore new canyons, and put up first ascents, Mountain Skills can make your trip a success.
Other activities include: mountain biking, hiking, fishing, and site seeing in the city of Monterey. Call or e-mail to book your rock climbing next trip to Mexico.