Guided Backcountry Ski Tours
Guided Backcountry Skiing in Northern New Mexico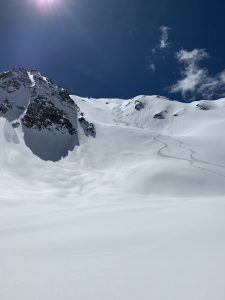 For 25 years, Mountain Skills Guides have been providing guided outdoor trips in New Mexico and around the world. We now proudly offer guided backcountry skiing and riding in Northern New Mexico near The Taos Ski Valley. Some of the regions most accomplished skiers are on staff led by our AMGA/IFMGA internationally certified Program Director.
Join us for a memorable trip in the wilderness. Whether it's powder, spring corn, variable conditions or perhaps the stash of your dreams, our guides will help you overcome technical hurdles to complete a classic ski descent. One great run in the backcountry can provide the memory of a lifetime.
Choose from easy, moderate, or extreme lines depending on your ability and the current snow pack. Varied terrain, expert staff, beautiful vistas, and rich culture combine to provide our visitors with an exceptional backcountry experience.
Pre requisite: Participants must be intermediate level ski area skiers
Introduction to Backcountry Ski Gear and Techniques
This short clinic is aimed at familiarizing people with how backcountry ski gear works and will cover some of the basic techniques required for basic uphill travel in the wilderness. Includes getting in and out of touring bindings, applying and removing climbing skins, how and what to pack, setting an uphill track, kick turns, as well as the basics on how to use beacons, probes, and shovels.
Approximately 3-4 hours
(can be combined with a beginner, intermediate, or advanced tour to make for a full ski day experience, add additional $100 per person)
1p – $475
2pp – $300 each
3-4pp – $250 each
Backcountry Skiing – Beginner Tours
This trip is designed for those who understand the basics of backcountry gear and travel but have very little or no backcountry skiing experience. A great way to get some backcountry ski milage. After a revue of the various types of gear that allow us to travel safely through the backcountry, you will do some simple travel and descents based on your comfort level.
Approximately 6-7 hours
Minimum Age 10
1p – $550
2pp – $400 each
3pp – 4pp $280 each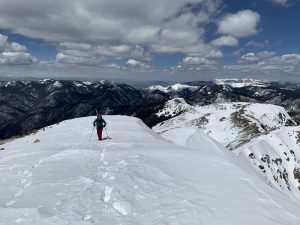 Backcountry Skiing – Intermediate Tours
If you already have the basics figured out, this trip will get you into the goods with confidence following our professional guides. Terrain choice, variable snow skiing techniques, and basic avalanche awareness will be covered. Relatively short to moderate approaches to access classic backcountry terrain.
Approximately 6-7 hours
Minimum Age 12
1p – $550 Private
2pp – $350 each
3pp – 4pp $280 each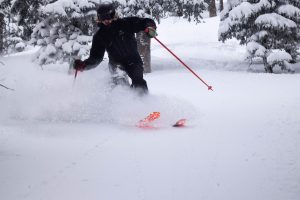 Backcountry Skiing – Advanced Tours
This trip is designed to get you into higher, and steeper terrain. Traveling with our local guides may allow you to link multiple peaks, drainages and slopes in the same day. Advanced tours will focus on covering a wide variety of terrain and searching out wherever and whatever the best skiing of the day may be.
Approximately 7-8 hours
Minimum Age 12
1p – $600
2pp – $400 each
3pp – $300 each