Rock n Raft
Rock n' Raft Adventures in the Rio Grande del Norte National Monument, New Mexico
No experience necessary. This course is designed to be exciting for everyone.
Spend the morning climbing, and or rappelling into the Rio Grande Gorge and experience the vertical world of Rock Climbing! Afterwards, enjoy lunch on the banks of the Rio Grande del Norte National Monument area, and take a refreshing raft ride through the rapids below.
This trip starts off with a morning of Climbing and Rappelling in the Rio Grande del Norte National Monument. After climbing and rappelling we will provide you with lunch on the banks of the river. In the afternoon you will enjoy a nice refreshing ride through the rapids below. The Pilar Racecourse a very good introductory level class III Rio Grande half day whitewater rafting trip to end your day.
This trip can be done in reverse.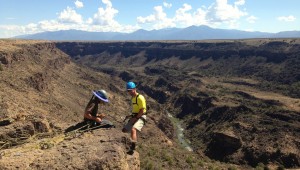 SEASON: Trips are available from April 15-October 15, with biggest whitewater conditions during May and June. The rappelling is cooler in the early summer and warmer later.
PARTICIPANTS: We welcome all participants 7 years or older. Our guides will teach you how to paddle as a team as most of the rafts we take are paddle boats. They will teach you all you need to know about rappelling and climbing techniques.
COST: $178 per person plus taxes. A 50% per person deposit confirms your reservation.
WHAT TO EXPECT: This six hour tour begins at 8:30 a.m. each day at the Pilar Yacht Club and Cafe, at the junction of State Highways 68 and 570, 16 miles south of the Taos Plaza, Mile Marker 28.5. Check in at our kiosk 10 or 15 minutes before departure. You'll read and sign the waiver form, assuming the normal risks of participation in a guided outdoor activity. We'll have you park at the BLM designated public parking lot nearby.
Please lock all valuables in your trunk.
SAFETY: River trips and rappelling contain an element of risk. Mountain Skills, Far Flung Adventures, Los Rios River Runners, and Cottams Rio Grande Rafting are thoroughly equipped and prepared to minimize the risks. We use quality manufactured self-bailing river rafts and all certified climbing equipment. Your guides are all experienced professionals, guide qualifications include wilderness first aid, CPR, and Swiftwater Rescue training.
Weight limit is 300 lbs
This is a rain or shine event