Mexico – Climb & Surf Sayulita & Puerto Vallarta
Join us for the perfect winter rock climbing and surf escape!  We have searched the world for decades looking for a place where we can offer trips that combine beginner and intermediate surfing, rock climbing, and sunny warm winter temperatures all within the same vicinity. We found it on the beaches down in Mexico! Winter temperatures averaging 78 degrees in the day,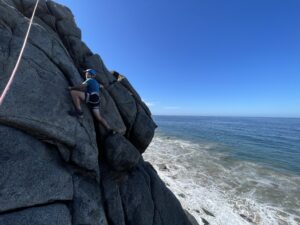 and low 60 degrees at night, 75 degree ocean temps, combined with oceanside living, beautiful beaches, mountainous jungles, plentiful accommodation options, with a short easy flight from the US and delicious fresh food make our Banderas Bay, Mexico destination the perfect place to enjoy some rock climbing, warm water surfing, and swimming this winter!
This will be our sixth season surfing and rock climbing in The Bahia de Banderas Bay, Mexico, located near the international airport of Puerto Vallarta in Jalisco.  Mountain Skills expert guides have teamed up with local climbers and begun the development of six new climbing areas in and around The Bahia De Banderas, Puerto Vallarta, and Sayulita, Mexico! The rock climbing areas are still small but very diverse and include limestone sport cliffs high above the ocean, easy seaside granite trad routes, beach bouldering, private sport cliffs with drive up access, and remote mountain towns with basalt caves and cracks! Come enjoy some of the new routes we have created or put up your own creation with the help of our seasoned professional, route setters!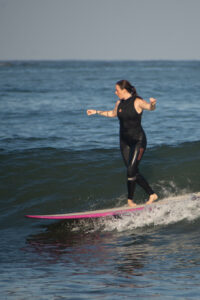 Surfing in The Bahia De Banderas, Mexico includes well over half a dozen different beginner and intermediate surf locations within a half an hour  drive of Punta De Mita, Sayulita, or Puerto Vallarta, for short boards and long boards alike! These local breaks include Burros, LA Lancha, El Anclote, Sayulita, and there are more!
Mountain Skills can bring together a Mexico surfing and rock climbing trip to match your ability and interest level. We will create the perfect custom climbing or surfing trip to suit your desires for a long weekend or a multi week long trip to Sayulita, Puerto Vallarta, Punta De Mita or any other location you  are staying in The Bahia de Banderas area of Mexico!
Ask our office staff to help you set up the perfect combination trip. We can also help you to coordinate your lodging, and transportation.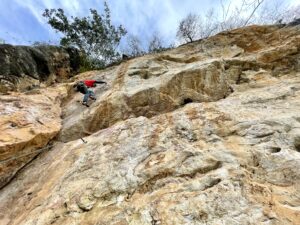 GUIDED ROCK CLIMBING
6 HOURS FULL DAY GROUP
All Climbing Gear Included
COST:
1 person-400 USD
2 people-210 USD per person
3 people-175 USD per person
4-5 people-160 USD per person
6-10 people-150 USD per person
      3 DAY PACKAGE
1 person—1080 USD
2+ people—565 USD per person
3+ people—475 USD per person
3 HOURS HALF DAY GROUP
All Climbing Gear Included
Half day 1 person-245 USD
Half day 2 people-150 USD per person
Half day 3+ people-135 USD per person
PRIVATE CLIMBING AVAILABLE FOR 50 USD EXTRA PER PERSON

SURFING
2 HOUR SURF LESSON IN SAYULITA
Surfboard, rash guard and leash
On land instruction about equipment, safety and technique
Two hours of surf instruction
Still have energy? Keep surfing for up to an hour after your lesson (on us!)
COST:
1 person—75 USD
2 people—65 USD per person
3+ people—60 USD per person
3 DAY PACKAGE
1 person—210 USD
2+ people—180 USD per person
3+ people—165 USD per person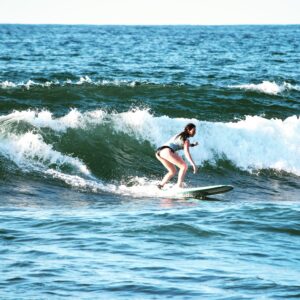 TWO HOUR SURF LESSON IN PUNTA DE MITA
FOUR HOURS IN TOTAL
Surfboard, rash guard and leash
On land instruction about equipment, safety and technique
Two hours of surf instruction
​
COST:
1 person—120 USD
2 people—85 USD per person
3+ people—70 USD per person
3 DAY PACKAGE
1 person—285 USD
2+ people—240 USD per person
3+ people—195 USD per person